It was about time for a facelift! While we liked our previous design, we thought it was time to provide a new layout and make it easier for visitors to our home page to get to the most popular widget-building tools on our website.
We're getting more visitors and users of our news widgets and tickers. As we grow, we're upgrading the capacity of our service to better serve you.
There are more features and enhancements coming soon, so please stay posted by subscribing to our
RSS feed
or
following us on Twitter
.
We do get good ideas submitted to us, so if you have an idea that you think we should implement,
please let us know
.

Our Google + Twitter search is now available! You can find it at
http://www.blastcasta.com/google-twitter-search.aspx
It was a pretty quick AJAX project that we thought would be interesting to do and useful for Twitterers. The added benefit of this, aside from seeing tweets on a search topic, is the ability to take the Twitter feed and not only subscribe to it, but also filter, translate, or add it as a widget to a website or blog.
Twitter search is becoming very interesting, and one way of using it is to widgetize a search and place it on your website or blog, to show recent tweets on a topic of interest for your readers.
Anyways, we hope you enjoy using it!

Got a feed and want to do more with it than to subscribe to it? The widget lets you do that straight from your website. You can not only subscribe to it, but you could combine it with another, filter it, sort it, and translate it. You can even embed it into your website or blog as a news widget or ticker.
As an example of what you could do with this, consider a reader that sees your blog in English, but prefers to read the headlines in Spanish. With a few clicks through the widget, she could have a translated feed that she could subscribe to or embed on her blog. The capabilities here are endless.
Well, obviously we're excited about this, and we hope you are too.
Please let us know what you think
.

The
BlastCasta
team is pleased to announce many new and powerful tools for anyone who publishes, consumes, or just reads content feeds. It may sound like a cliche, and it is, but today marks a new beginning for feed technology, specifically feed-processing tools and feed-content widgets.
One of our underlying goals is to make it easier for more users to understand and regularly use feeds, and we're striving hard to make that happen. Okay, so let's briefly explain some of the most important new developments.
We do listen to our users and appreciate your feedback, so please send us your
comments or suggestions
.
Stay tuned
, because there is more to come as we expand our services.

Having one or more feeds for your website not only helps drive traffic back to your website from the feed readers and content embedded with the
BlastCasta
tools, but there is a new benefit that is beginning to emerge and it could have a tremendous positive impact on the traffic level coming into your website.
More and more content management systems and publishing tools are allowing users to consume news feeds to render as content on their websites. For example, our affiliate's news publishing system,
Solupress News
, allows users to import content from a feed to keep their websites fresh with current content. Let's say, as is typically the case, that the links in the feeds point to their corresponding feed publishers' websites. Since the content from the feeds can now be embedded within other websites pages, it allows search engine crawlers to index the new content.
As the crawlers notice the links in the content point back to the feed publishers' websites, they may help increase the page rank for the publishers' pages for the keywords and phrases in which the feed publishers are interested for driving traffic to their websites.
This just another reason for providing some of your website's content through an RSS or Atom feed among the countless others. Simply having a feed allows you to share your content in new and better ways that you may not have anticipated. Given the sharp increase in the number of feed tools out there, you just never know how your feed content will help deliver more visitors to your website.

Feeds certainly have their proponents, but most web surfers and even many of the savvy ones, still don't seem to be using them regularly, but that's about to change.
Publishers today know that advanced Internet users want to make the best use of their time and that feeds can help in that goal by allowing readers to quickly view content without jumping around to multiple websites. Web browsers like Internet Explorer and Mozilla Firefox and email clients such as MS Outlook and Mozilla Thunderbird make web pages and email accessible to many computer users, however feeds are not so intuitively grasped.
Of course, as you may know just from looking through
our site
, feeds are just as useful, if not more so, for publishers as they are for readers, particularly with the useful array of
BlastCasta tools and widgets
. So if having readers consume feeds is not a successful endeavor, not everything is lost.
But no worries, many new web browsers and email clients are allowing users to more easily pull in and subscribe to feeds and it's becoming clear that there is an uptick in feed usage by readers.
As of November 20, 2008,
TechCrunch notes that 38% of their 1.4 million feed subscribers, use Microsoft Outlook 2007 to read their feeds
. Almost everyone else, uses a manually installed or web feed reader that require effort on the users' part to configure.
Since a large group of people use Outlook 2007 to access email, they do not have to do anything special to subscribe to feeds.
The BlastCasta feed landing page is also helping to allow visitors to read and subscribe to feeds as well as use them on their own websites. If you're a publisher or have a website, we suggest trying it out, as it enables you to share your feed in ways that you don't see elsewhere.
Making feeds easier to subscribe to is trending upward as various browsers and email clients are beginning to add feed subscription features. As a result, the benefits of using feeds will begin to become more apparent to the Internet audience as a whole just as web browsing and email have become so universal.

We just released several new items that you may find useful. The first is the ability to
combine and filter feeds
.
Being able to combine and filter feeds will lend itself beautifully to content sites that have many different feeds and like to give the flexibility to their readers. In addition, feed users can combine several feeds, be able to read them in one place, and filter feeds on a particular keyword, phrase, or limit the number of feed items. We could go on forever with the number of possiblities here, of course, such feeds can be used for the BlastCasta
news script generator
as well.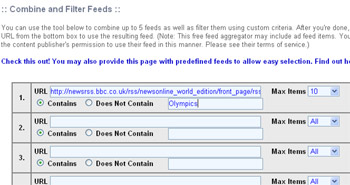 We also now have a highly customizable
feed landing page
creator. You can create a feed landing page that fits your style for a feed (even a transformed feed) and use it to display the contents of your feed in a user-friendly manner as well as allow easier subscription to it. The best thing about this is that your readers will have options on the feed landing page to combine and filter the feed, if they desire.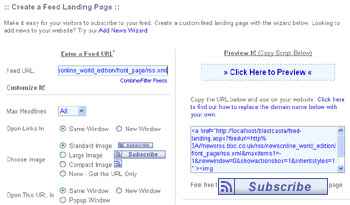 Continuing with our theme of customization, we officially present
"Save & Share"
, a script you can easily add to your site to allow your readers to share and bookmark pages. Like many of our other services, this one is customizable to fit the look-and-feel of your site. This free service is meant to promote traffic to your site by easily allowing readers to share your pages.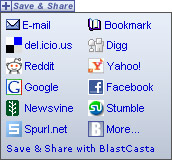 Finally, we now offer a
Flash version of our news script
that will work on pages where JavaScript is disallowed such as social networking sites like MySpace and Facebook. We'll work on getting this approved by MySpace and other social networking sites to appear in their widgets collection.
Subscribe to our
blog feed
or
newsletter
for the latest in BlastCasta's offerings and feed technology.

We're live! Our first release of BlastCasta is out and ready for use and you will not be dissapointed. We stayed up late on the eve before the holidays to get this thing live.
What is BlastCasta? Well to start (and we are just starting with everything we plan to give out for free) BlastCasta is a tool to pull content from news feeds, podcasts, blogs, and indeed any type of RSS feed into your website. But also, you can use it to
allow others to pull your news feed
into their websites. This could have the effect of getting your content (and links to your content) out to thousands or millions of other Internet users. It's just what the web was waiting for.
You don't need to sign up for this service and it can easily be used to
increase traffic to your website
. Feel free to
contact us
to learn more about how BlastCasta can help you.
Upcoming are many new features for both online
publishers
and
developers
to leverage the power of feeds. Subscribe to our
blog feed
or
newsletter
for the latest in BlastCasta's offerings and feed technology.